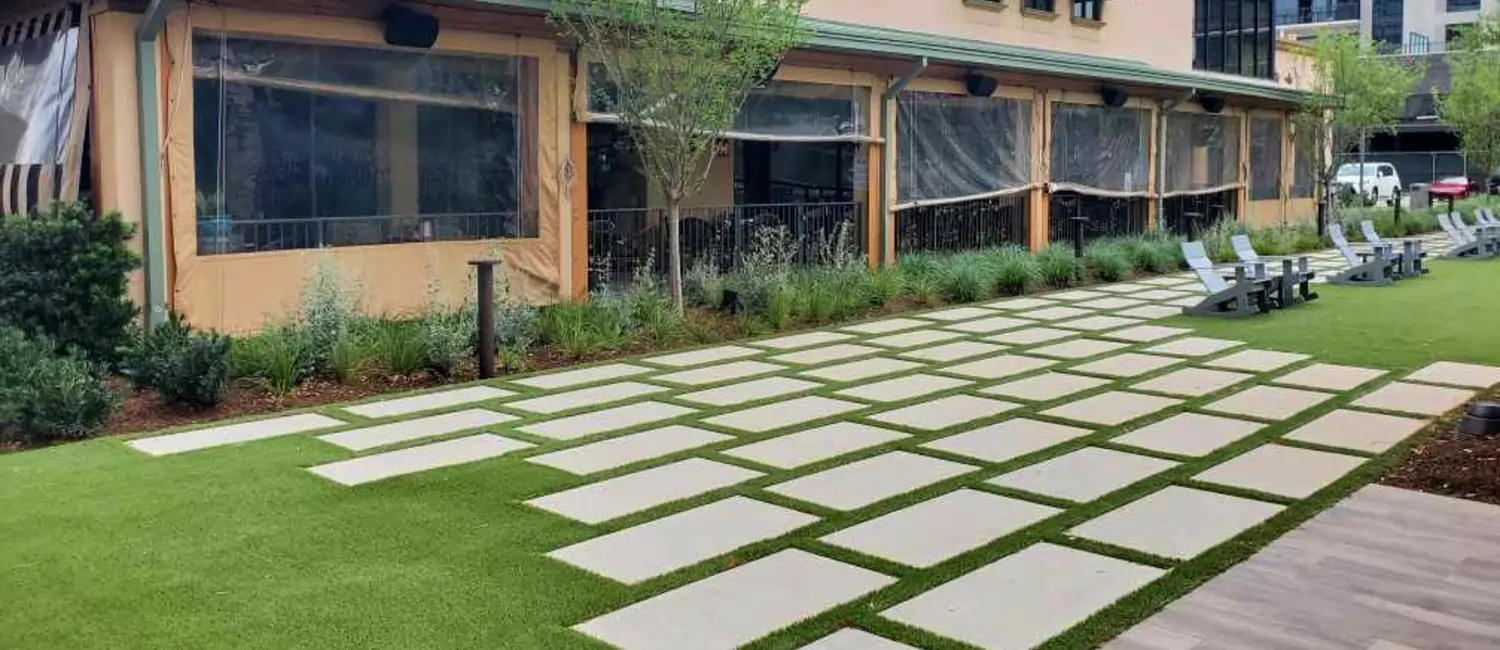 Whether you own a restaurant, hotel or even a resort full of on-site amenities, your focus should always be your customers. Worrying about lawn maintenance is just one more thing that can distract from that focus – but maintaining a beautiful landscape plays a huge part in the presentation of your brand and business. SYNLawn provides a solution in plant-based artificial turf that requires little regular maintenance and upkeep, leaving you more time to improve on your customer satisfaction in other, more important areas.
Product Features
SYNLawn can be used anywhere you would find traditional grass – as well as a multitude of places where maintaining or growing natural grass might be impossible. Artificial turf is great for front entrances, courtyards, pool decks, sidewalks, parking lot medians and more. It looks great year-round and will save your business money both in water consumption and regular maintenance such as cutting and edging, while still being an environmentally friendly option.
Reduced Maintenance Cost
With artificial grass you can reduce or potentially eliminate the maintenance costs associated with lawn care. The average return on investment after installing artificial turf is 2-3 years – if your grass lasts you 10 years imagine how much you will have saved!
Always Looks Healthy and Lush
No matter where you live, you can have lush and healthy looking beautiful green grass all year-round with synthetic turf.


Design Possibilities are Endless
Are you looking to create a completely unique experience inside and out? With synthetic turf the design possibilities are unlimited as it can be used in a multitude of areas where natural grass simply is not an option for one reason or another.
Always Ready for Use
Unlike natural grass, SYNLawn is available for use 24/7 thanks to the high-quality drainage system that keeps puddles from forming and the durability that means there is never a wait to regrow (or in this case replace) patches after heavy use or particularly brutal weather.