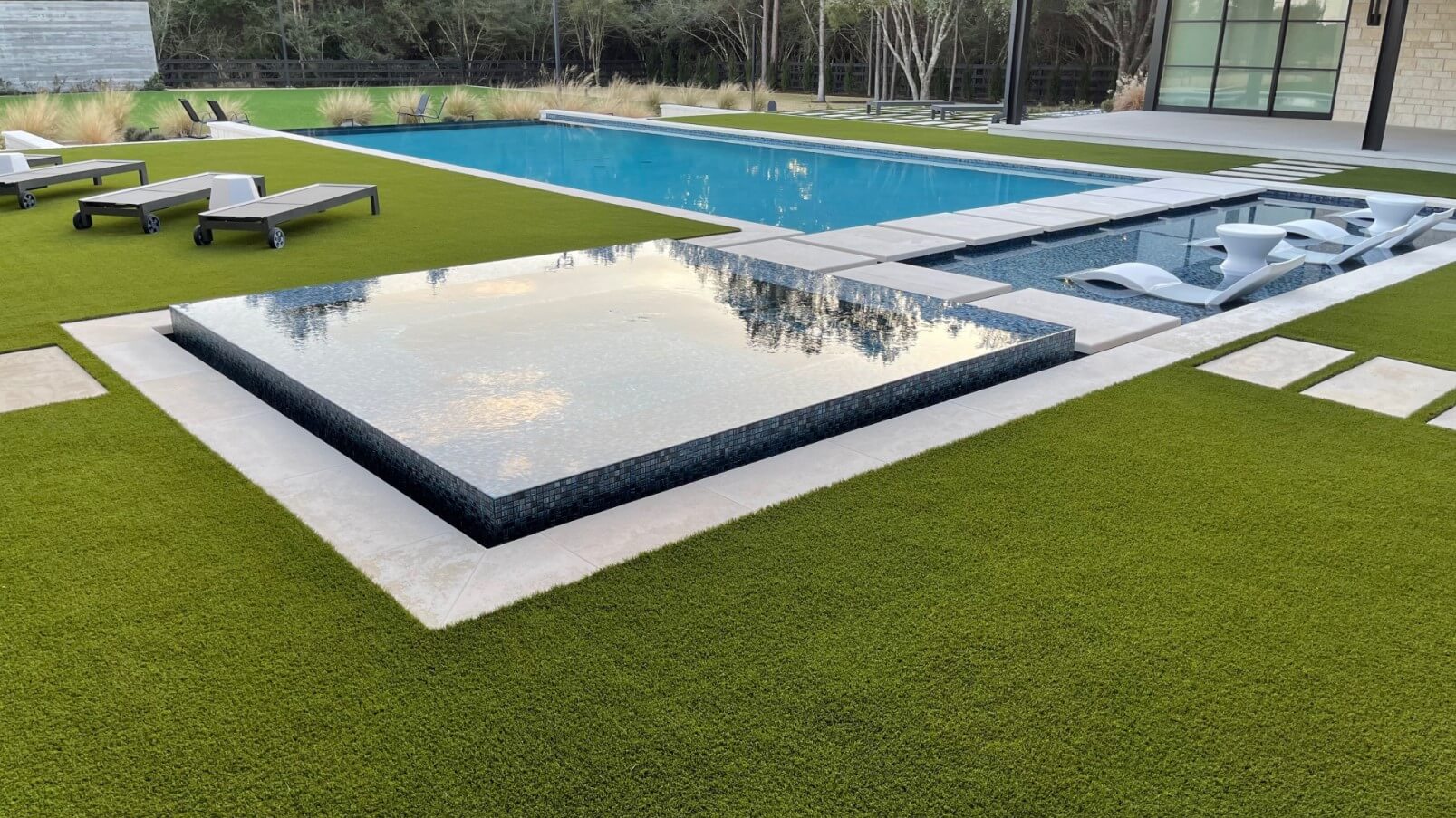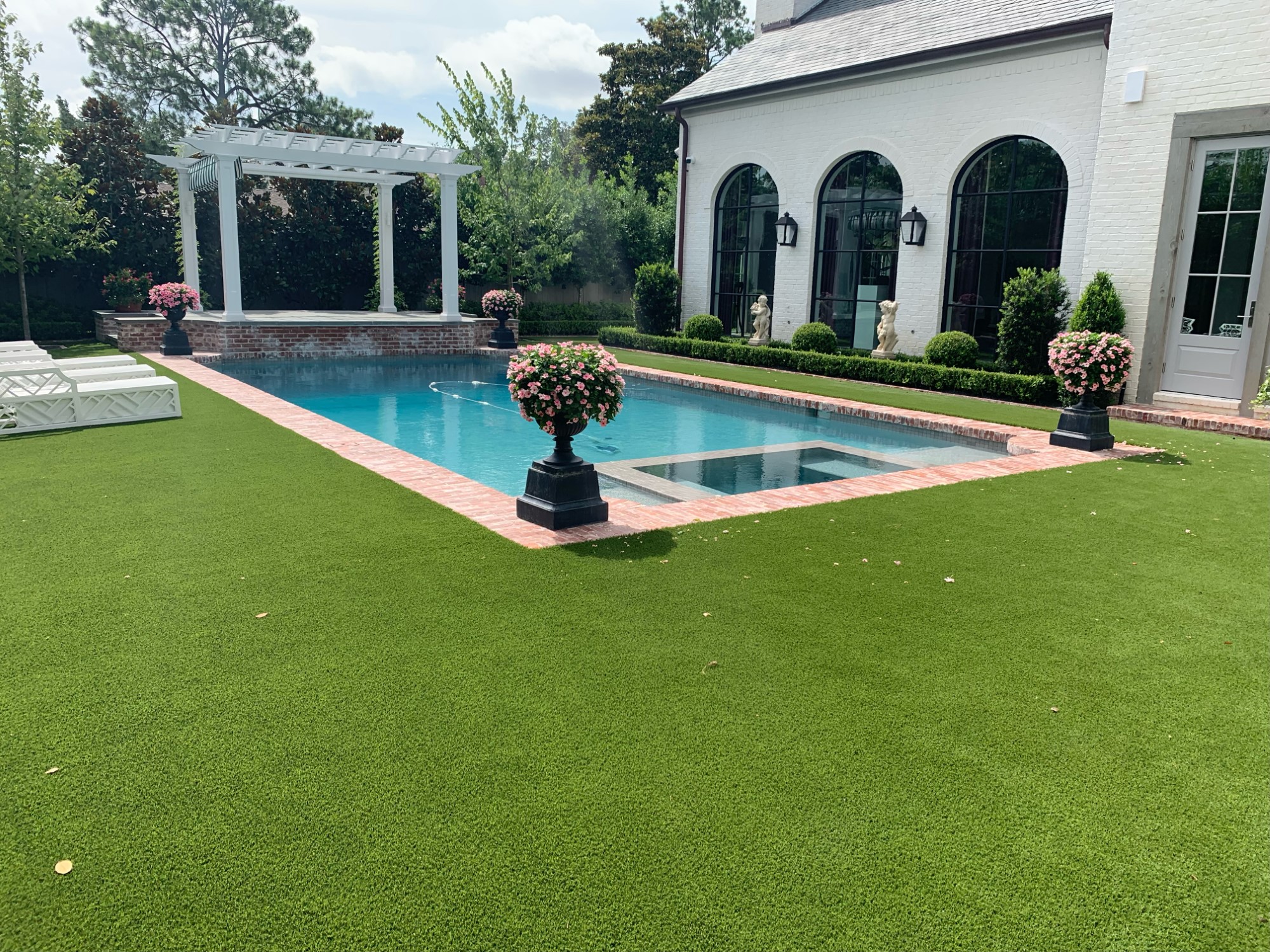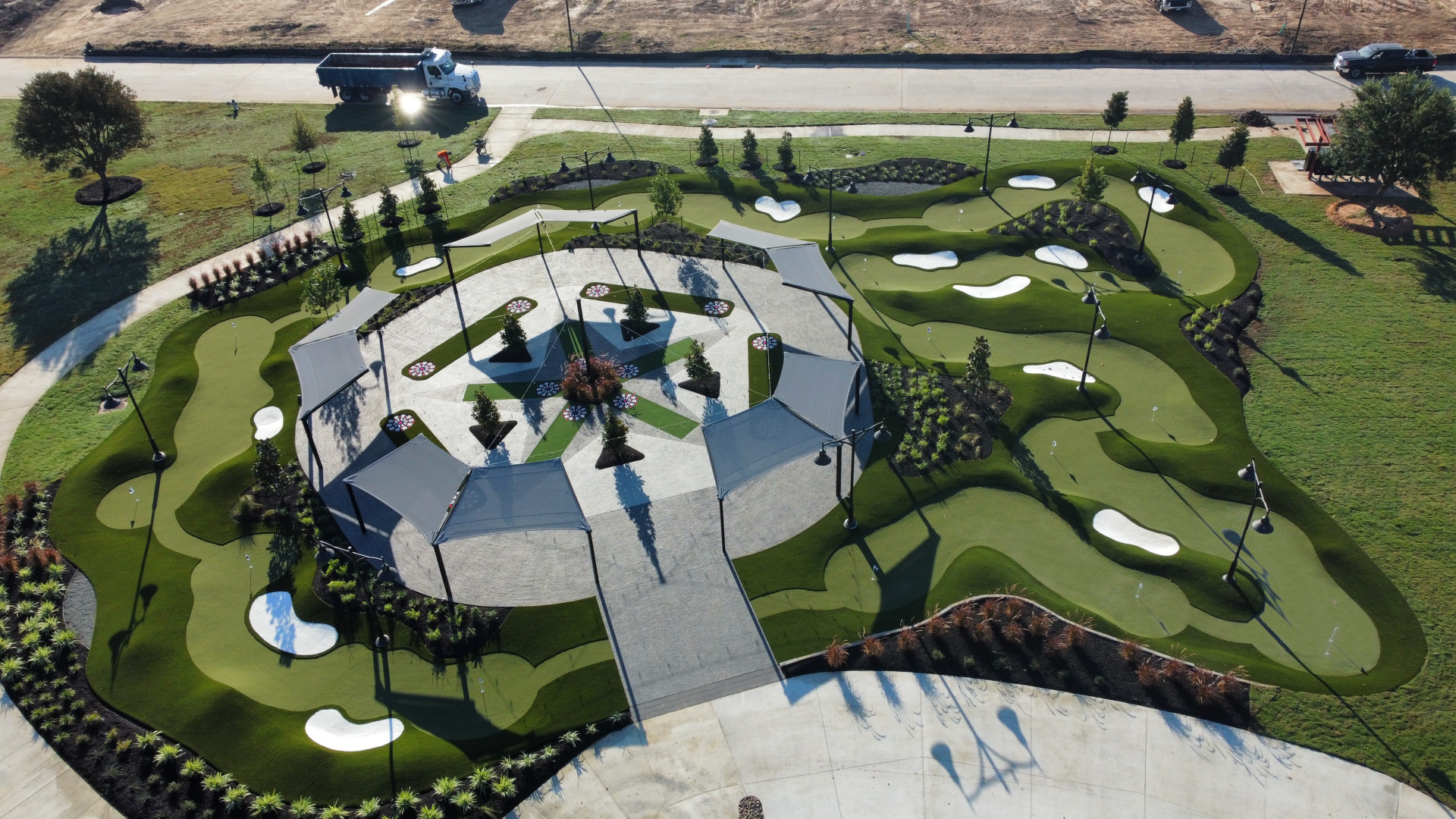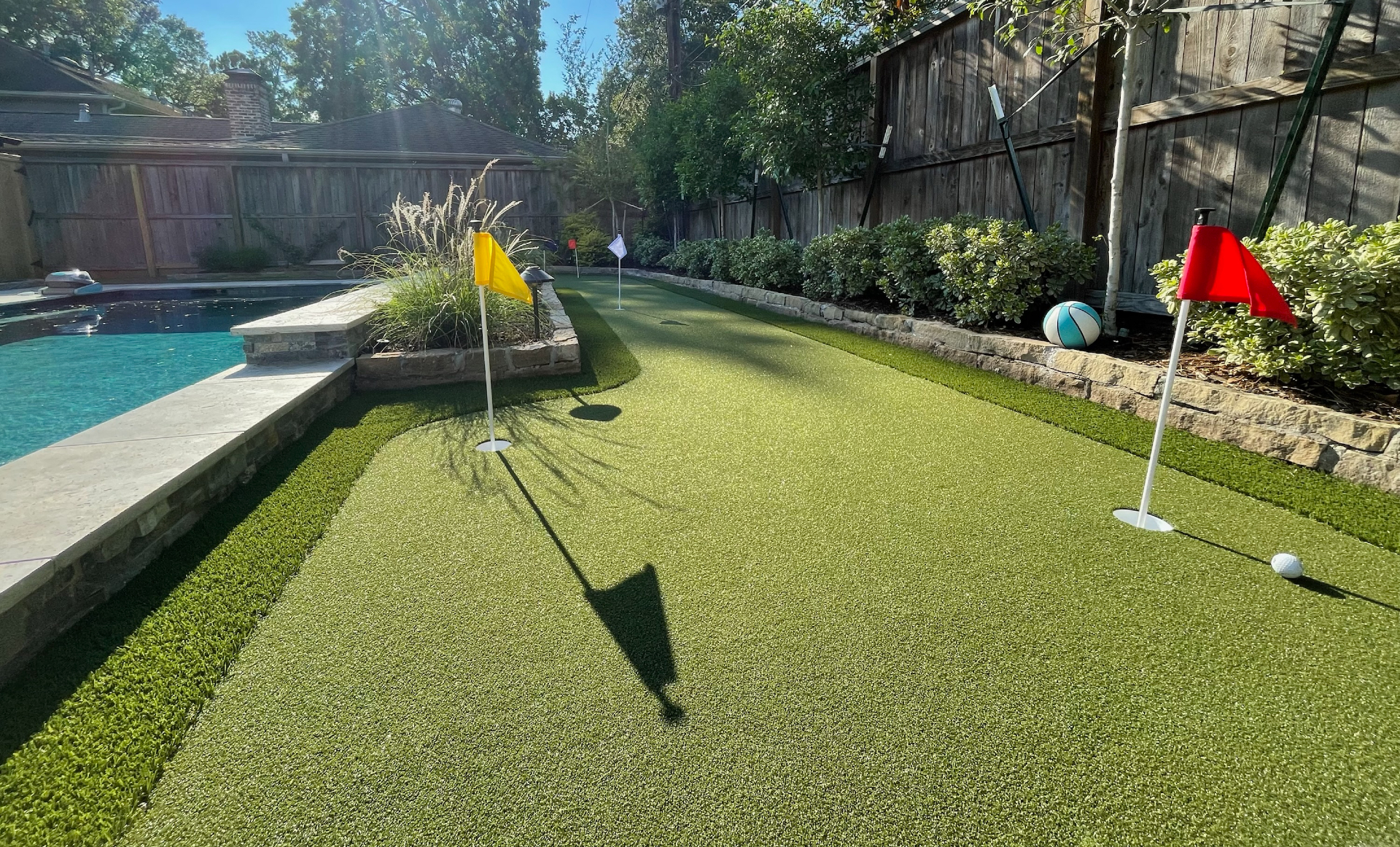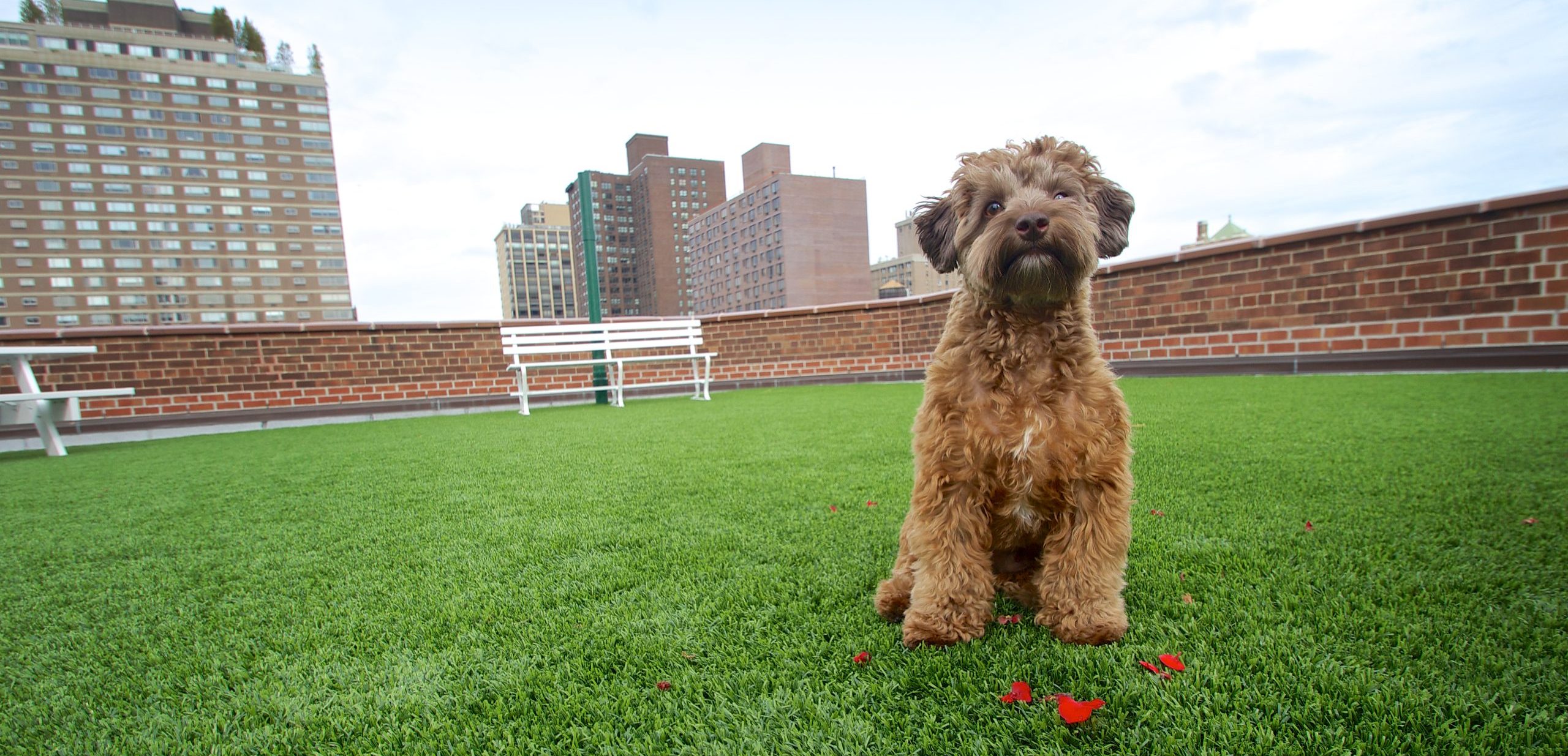 Residential
Residential Lawns
Lush, Evergreen, and Low-Maintenance
Transform your residential property in Orange County with a consistently beautiful, low-maintenance artificial grass lawn. Our stellar synthetic turf is ideal for residences of all kinds, including homes, estates, and more. Find out more about it today!
Commercial
Commercial
Consistent, Cost-Effective Lawns & Landscaping
Don't rely on unpredictable sod for your commercial lawn or landscaping! Gain a surface you can trust with our consistently green and cost-effective commercial artificial grass instead – ideal for lawns, landscaping, and more!
Putting
Putting Greens
Highly Playable Golf Surfacing
Take your golf game to the next level with our specially designed artificial grass putting greens! Our highly playable synthetic golf turf provides a fully-optimized and low-maintenance surface for players of all skill levels. It is perfect for backyards, commercial properties, and more!
Pet
Pets & Dogs
Dogs and other pets can wreak havoc on traditional grass surfaces, but not with highly durable artificial pet turf from SYNLawn Orange County! Our soft, easy-to-clean synthetic pet grass is ideal for household pets and dog breeds of all shapes and sizes.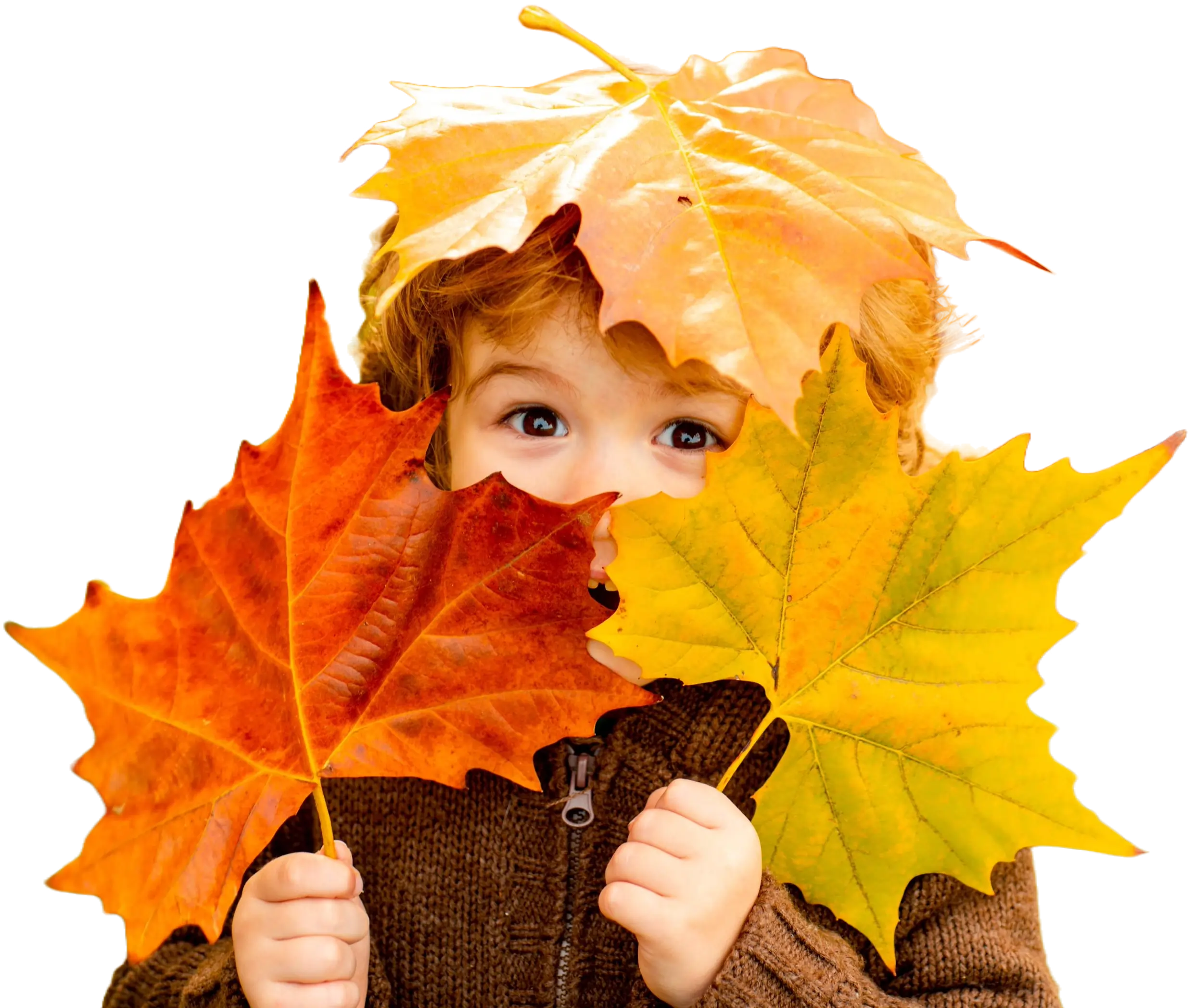 No Need to Reseed!
Get your free consult today.
Payments as low as $42/Month,
$0 Down OAC.
Save Up to 70% Water.
Customer Testimonials
Read some testimonials from only a handful of our satisfied customers!
I found the SYNLawn team to be an excellent combination of quality workmanship/product and customer service. Truly impressed by the communication, follow-through, and the finished product as well. I would recommend them 10 out of 10 times!
We had a great experience all around – nice selection process, reasonable bid, quick turnaround, and excellent installation. We can't wait to enjoy our backyard! Thank you to April and Joe for making the process so smooth and enjoyable! High recommendations all around.
April was fantastic and very helpful. Really felt like I was speaking to a friend rather than a business. She really went out of her way to help us out. The install team (Juan) did very very nice work in 105 degree heat. I couldn't be happier with the final result. I would recommend SYNLawn to everyone the material they carry, the customer service and the workmanship is simply the best!!!
Ultra-realistic, technologically advanced, and eco-friendly artificial grass in Orange County
It is no secret that maintaining a traditional lawn is both tedious and strenuous. The constant mowing, watering, and weed whacking are not usually at the top of anyone's to-do list. SYNLawn® Orange County artificial turf takes the maintenance and costs of achieving a lush and vibrant lawn out of the equation. Orange County synthetic grass is not your ordinary fake grass; it is on the cutting edge of turf technology. As a result, no other competitor can deliver the high quality and performance that SYNLawn® offers today. SYNLawn® artificial turf installation is ideal for residential and commercial landscapes, rooftop lawns, deck and patios, gym and athletic flooring, playgrounds and more!
SYNLawn® is the largest manufacturer and unrivaled innovator of artificial grass in North America. They are part of the Sport Group Holding® family of companies, which include Astroturf®, Rekortan®, and Laykold®. SYNLawn® delivers the highest quality, top standard artificial grass in the industry.
Here are some more incredible benefits of SYNLAWN® products:
HeatBlock™ Technology
BioCel™ Technology
EnviroLoc™ Plant-based Backing System
IPEMA Certification
Unmatched Limited Lifetime Warranty
Omega™ Technology
Delustered Finish and UV Stabilizers
ASTM E108 Class A Fire Rating
Child and Pet Safe
Made in the USA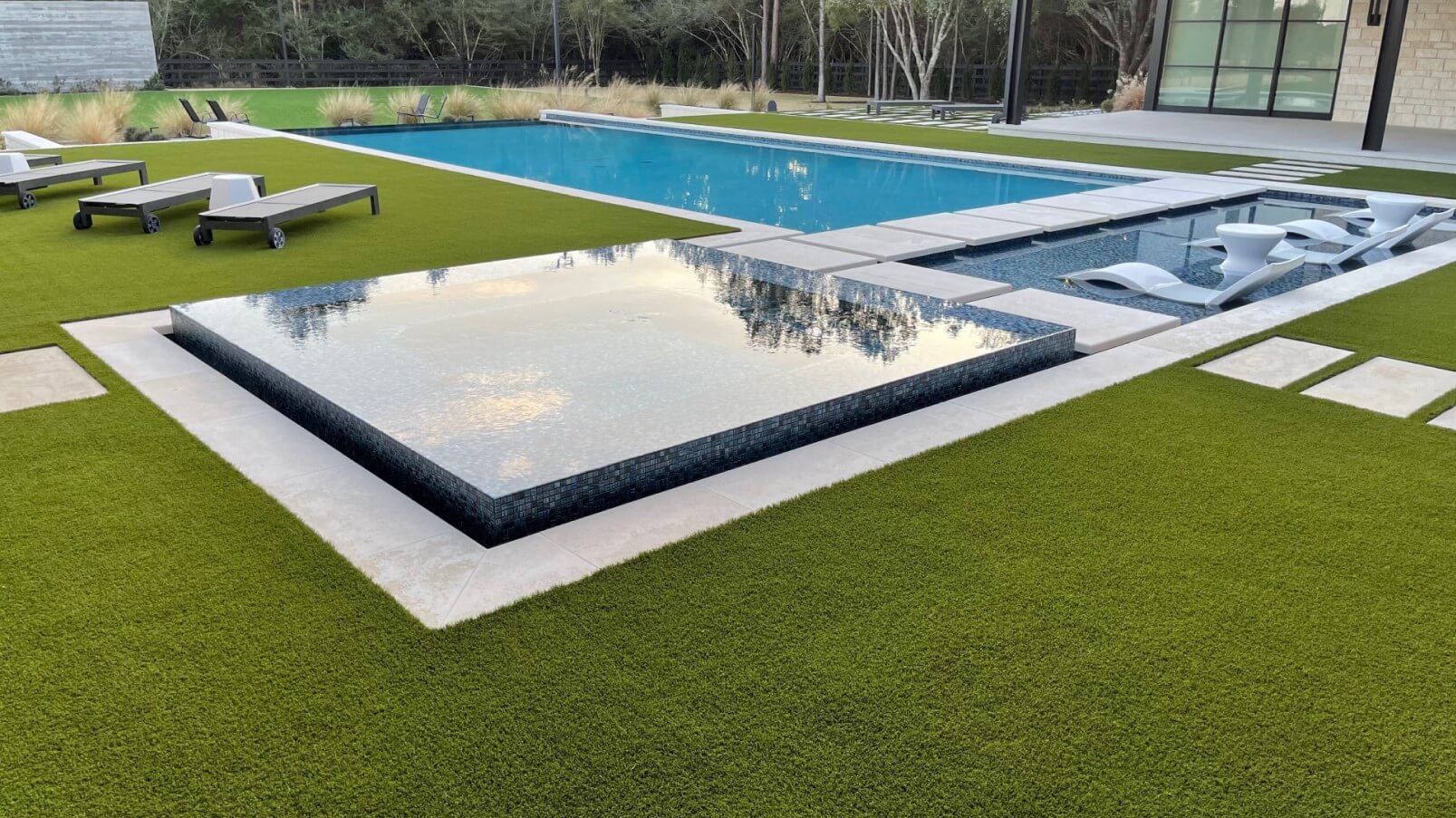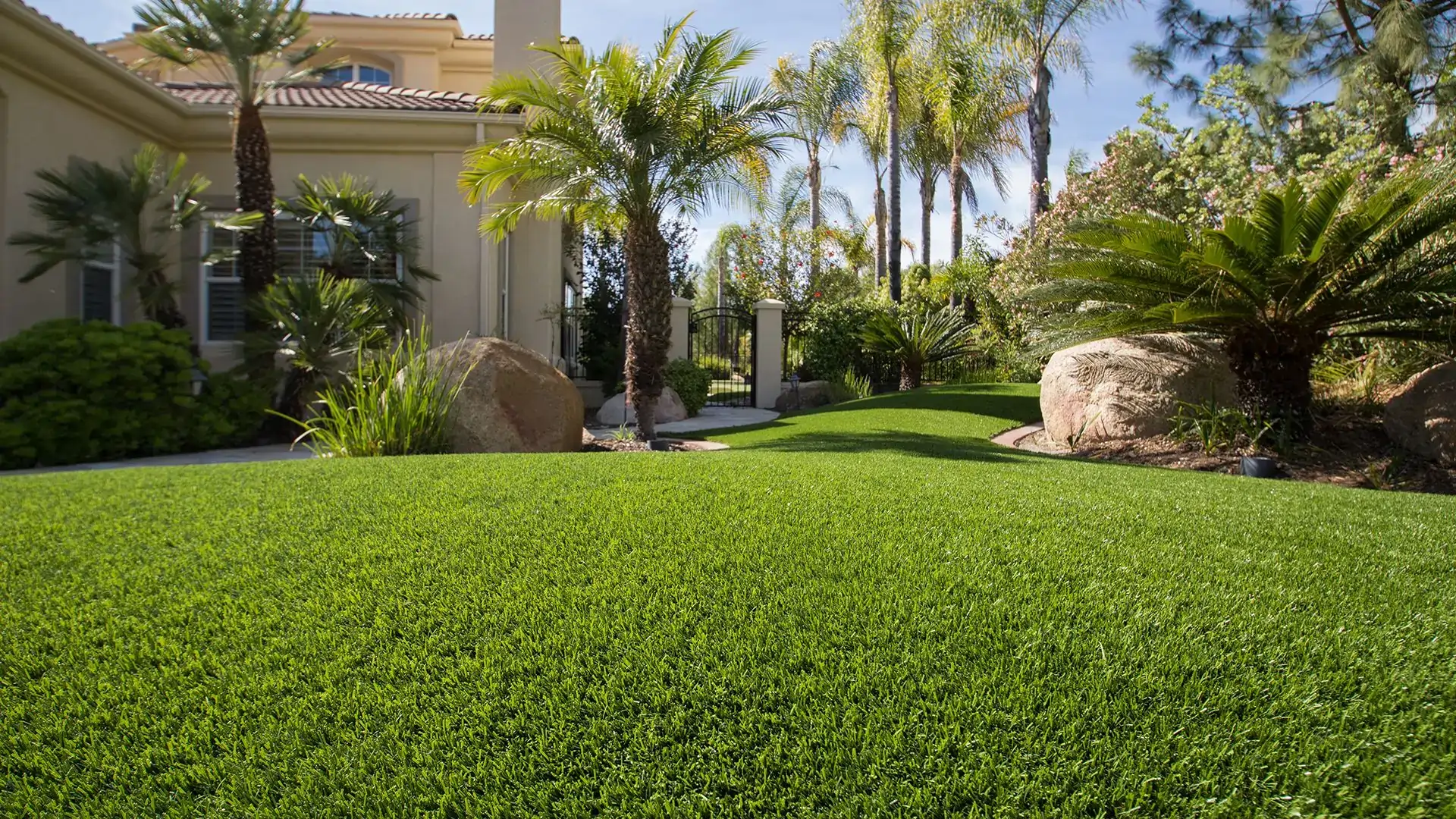 Every SYNLawn® Orange County artificial grass installation offers a list of exclusive technologies that continue to raise the quality standard in the turf industry. Super Yarn™ is one of the most notable innovations from SYNLawn® and combines three unique components that cannot be found in any other grass yarn formulas.
Sanitized® Antimicrobial – Eliminates 99% of bacteria and prevents stains and odors caused by pet waste
DualChill™ IR Reflection – Prevents turf fibers from fading in direct sunlight and enhances blade integrity
StatBlock™ Anti-Static – Inhibits the accumulation of static electricity to enhance safety and comfortability
The EnviroLoc™ backing system is made with locally sourced recyclable materials and acts as your artificial lawn's security system. EnviroLoc™ "locks-in" turf fibers to prevent shedding and features a porous body that provides our products with optimal drainage capabilities, so that you can enjoy your lawn almost immediately after exposure to rain and water exposure. We partner with US soy farmers to replace the majority of petroleum-based polymers found in traditional turf backing with soybean oil.
Additionally, SYNLawn® is proudly the first artificial turf company to offer a large collection of USDA-certified products containing more than 60-70% of bio-based contents. SYNLawn® Orange County turf saves you time and money on rising water bills and lawn maintenance, help significantly reduce carbon emissions, reduce the impact we have on landfills, and conserve thousands of gallons of water each year. SYNLawn® OC's commitment to environmental sustainability begins from the source of our materials, carries through the manufacturing process, and continues even after the completion of a project. We continuously invest in research and development to design eco-friendly synthetic grass products of the highest quality.
Commercial Artificial Grass Installation in Orange County
Commercial properties, architects, and commercial landscape designers swear by SYNLawn® synthetic grass and return to us on a regular basis to take on new projects. SYNLawn® products offer unmatched toughness, durability, and performance for a wide variety of applications. They allow business owners to focus on their customers and create a stunning long-lasting impression, coaxing customers to return often.
SYNLawn® synthetic turf is perfect for areas that are prone to heavy foot traffic, extended sunlight exposure, extreme weather conditions and more. SYNLawn® Orange County commercial lawn products pay back on your investment. Our turf provides unique features and benefits to lawns, rooftops, deck and patios, fitness facilities, putting greens, playgrounds, sports courts, apartment complexes, restaurants and more.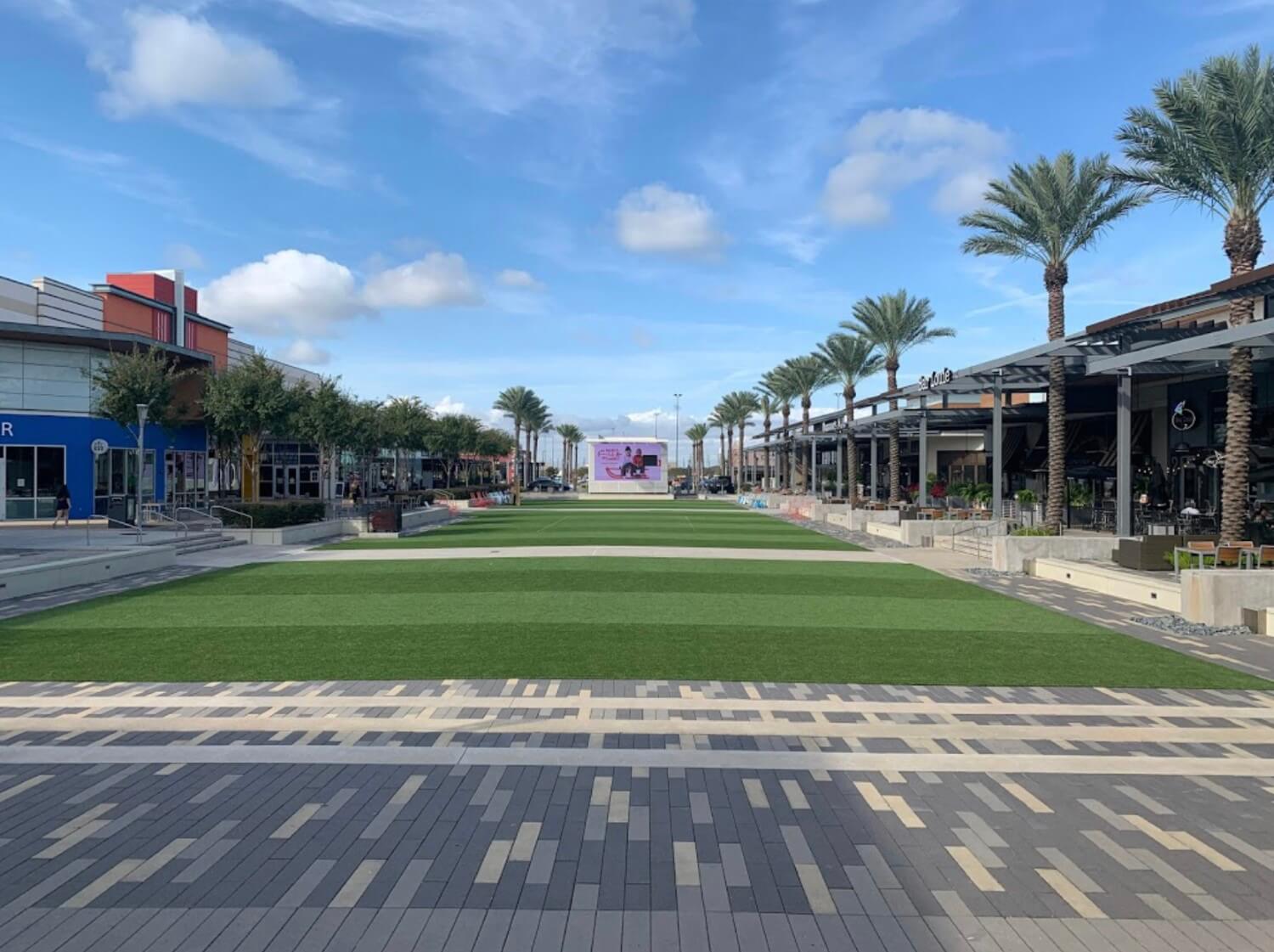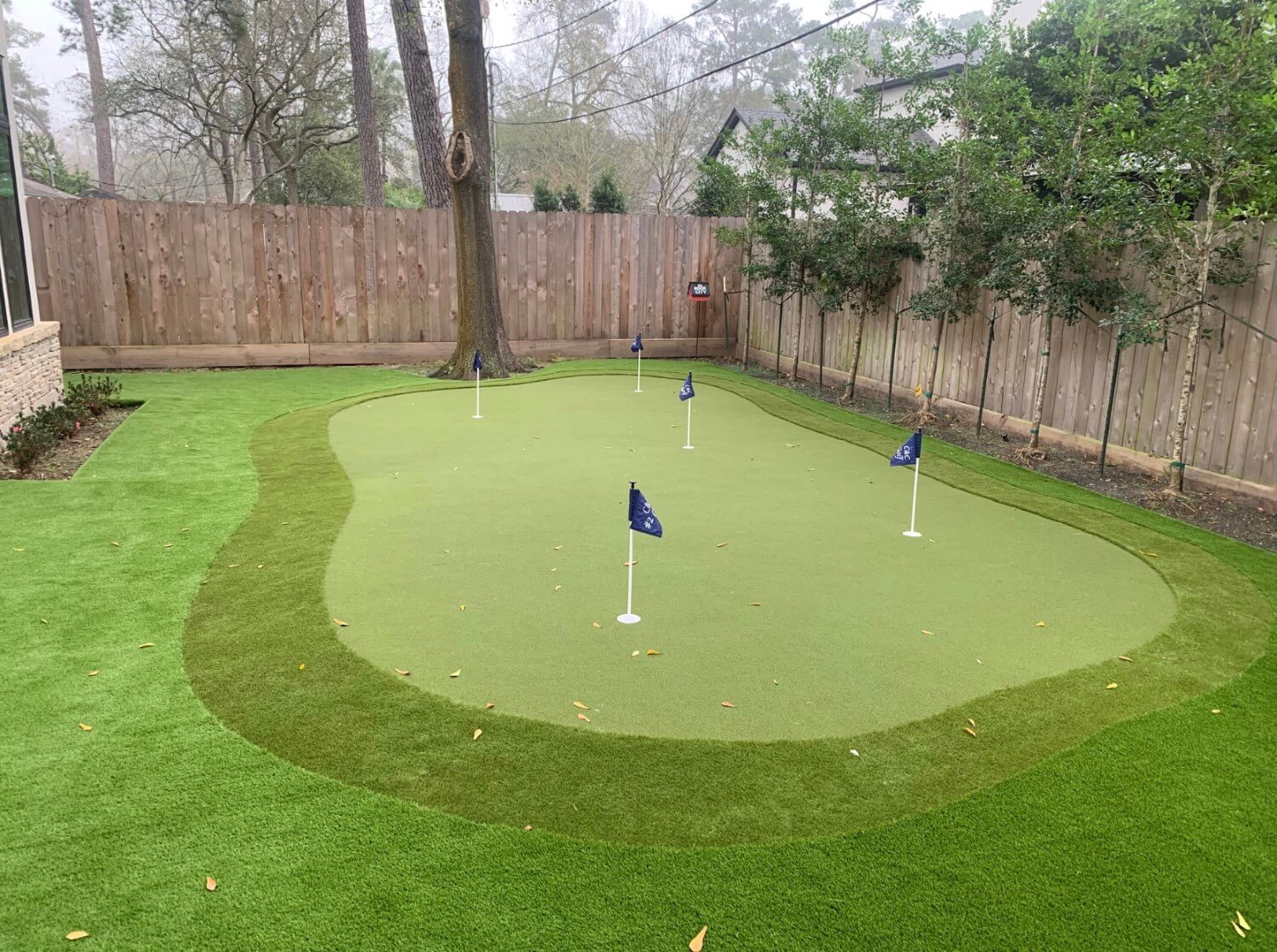 Orange Country Golf & Putting Green Turf
SYNLawn® builds professional golf courses using the most modern synthetic grass for putting greens. Orange County golf green turf can replicate every aspect of the game for both residential and commercial golf applications. We understand how to bring the fun and challenge of a real golf practice green to your home or business.
SYNLawn® has the honor of working with world-famous golf coach Dave Pelz and our team of GreenMaster™ installers to deliver PGA-caliber performance and aid in the mastering of our customers' short game. SYNLawn® Orange County putting greens are suited for all ages and skill levels and come in an assortment of options for all spaces. Some of those varieties include backyard golf greens, indoor putting green, commercial golf courses, mini golf course, tee lines, and portable options to place where you see fit. Engineered by ex-NASA engineers, our golf turf closely replicates the performance of real grass.
Stain and Oder Resistant Orange County Pet Turf with Cooler Surface Temperatures
The ideal artificial grass for dogs and pets of all shapes and sizes. SYNLawn® Orange County pet grass provides pet owners and pet-friendly facilities with a vibrant, low-maintenance lawn that is tough, safe, and comfortable for pets. In addition to being stain and odor resistant, cleaning is a breeze because of the built-in drainage capabilities. The combination of EnviroLoc™ and Super Yarn™ eliminate digging, brown spots, dead grass caused by pet waste, and other common lawn obstacles. You love your pets as much as we love ours, and that is why SYNLawn® designed a pet-friendly synthetic grass that will keep them safe and happy while they are outside.
Furthermore, SYNLawn® Orange County pet turf utilizes our proprietary HeatBlock™ and DualChill™ IR reflective technologies to provide cooler surface temperatures for pets to enjoy on hot summer days. In fact, HeatBlock™ is scientifically tested and proven to provide up to 20% cooler surface temperatures than any other competing pet turf. Lastly, our pet grass is coated with Sanitized® antimicrobial to keep fleas, ticks, and other pests off of your canine companion and eliminate bacteria and odors from the turf surface.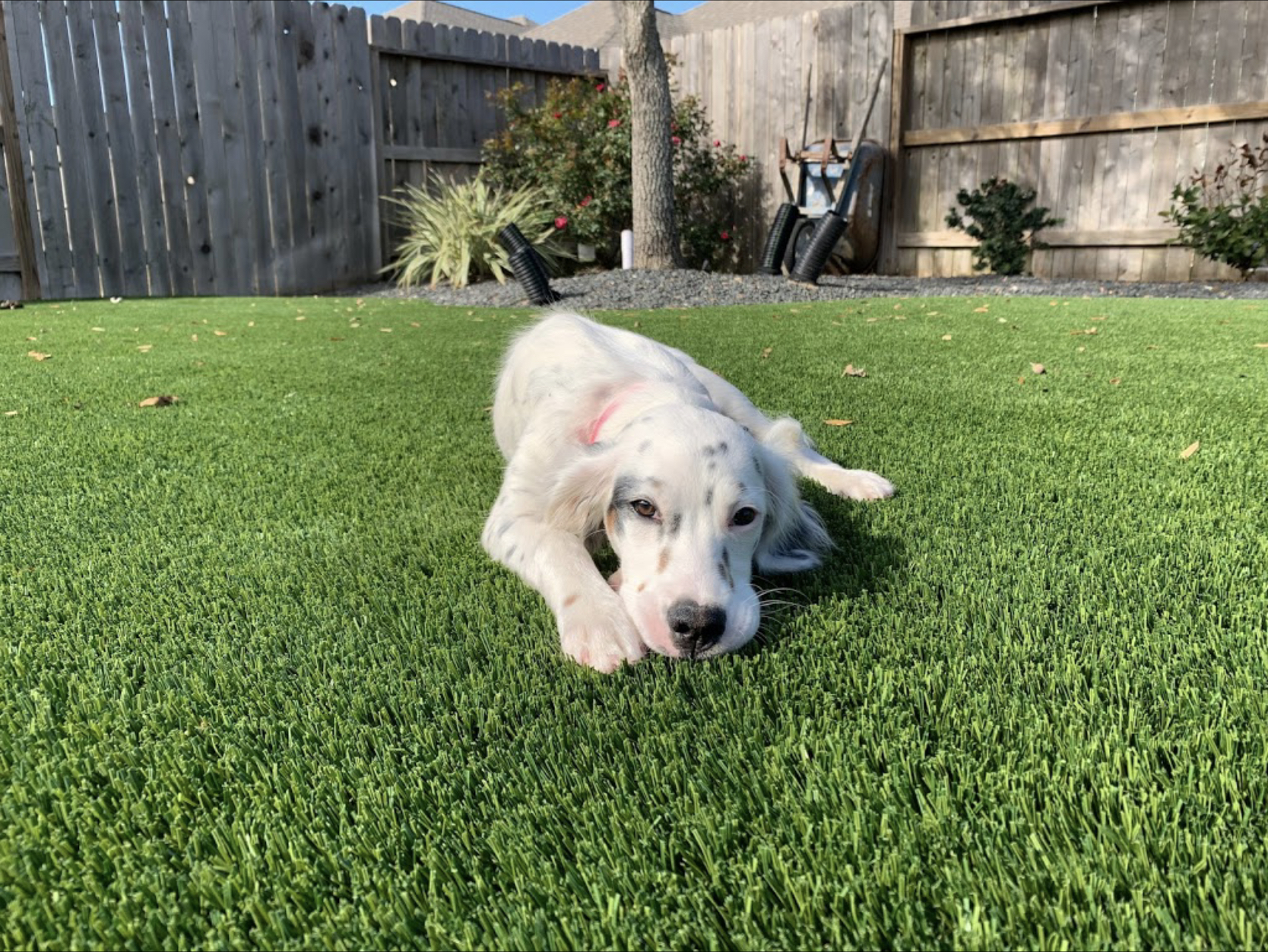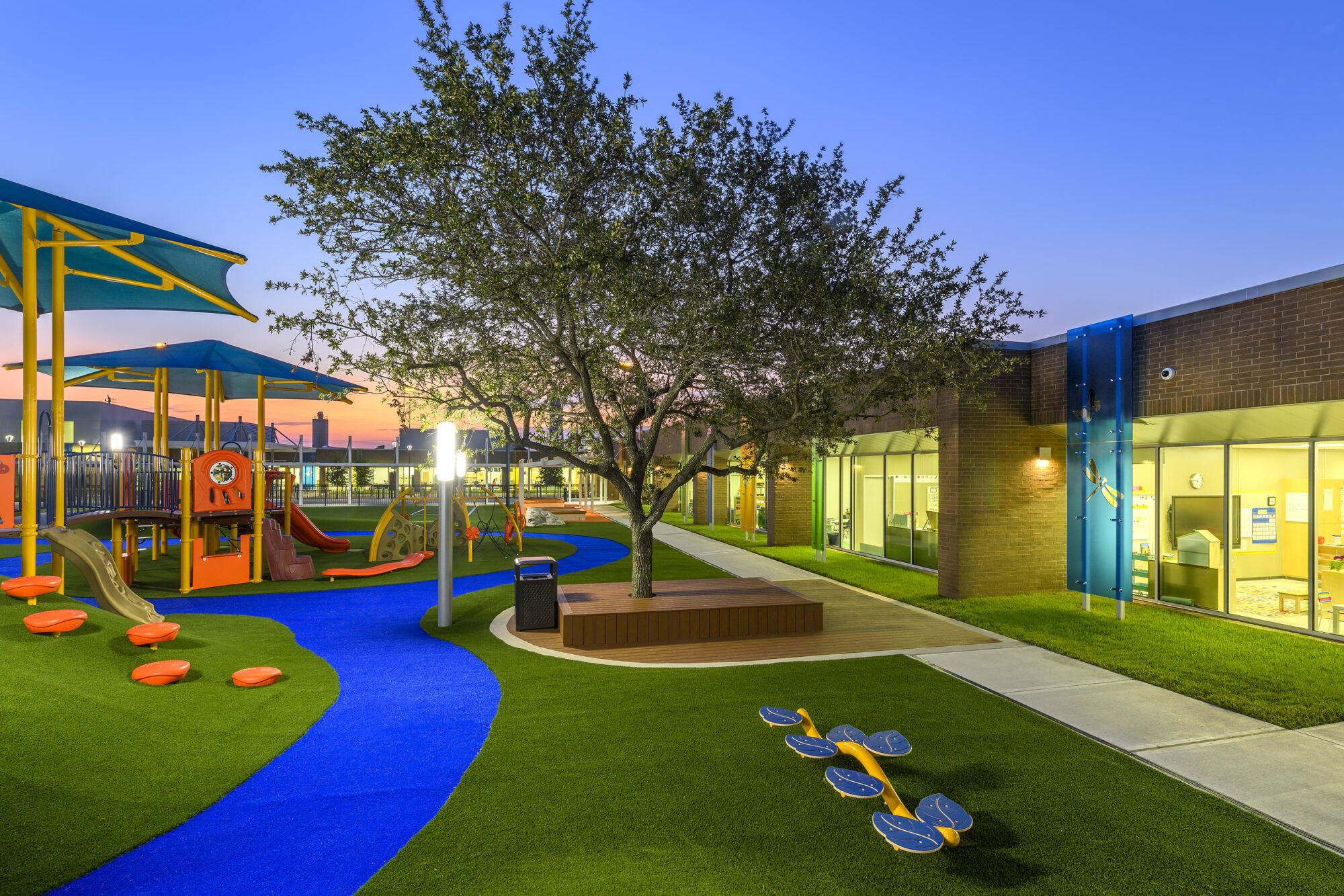 The Safest Orange County Playground Turf And Playground Flooring Solutions
There are a variety of Orange County playground surface options available today such as mulch, gravel, rubber, and other materials. However, nothing is safer and more enjoyable for kids than SYNLawn® Playground Systems. Traditional options fall short when it comes to dependable safety protection. Mulch, gravel, and sand-based surfaces deteriorate with time. High-traffic areas such as those surrounding merry-go-rounds, under swings, or at the foot of a slide, tend to dislodge the material, exposing the hard ground beneath.
In addition, they do not provide the shock-absorption capabilities needed to protect our children from head injuries and abrasions from falls on the playground. That is why we install a thick cushion called Fall Pad® underneath our OC playground turf installations to provide shock absorption and enhanced safety. Parents, teachers, and property managers can have a peace of mind knowing that our kiddos cane safely enjoy their playground time. Furthermore, Orange County playground turf is IPEMA certified, ADA compliant and wheelchair accessible, and ASTM Class A fire rated to live up to our exceptionally high safety standards.
VISTAFOLIA® Aritifical Living Wall Installation in Orange County
Orange County artificial green walls from VistaFolia® add elegance and beauty to any office space or living area. These stunning synthetic vertical gardens are intended to resemble the behavior of real plants while requiring no maintenance. Watering, trimming, and pruning is never need. The only maintenance ever needed would be an occasional dusting if displayed indoors. These artificial living wall panels have been fire-tested and rated and are UV-stabilized to prevent fading in direct sunshine.
Artificial plant walls from VistaFolia® are lightweight and allow for unfettered air movement, giving them unparalleled realism and authenticity. The panels have been wind, freeze, and fire tested, and they are installed and bonded in an unusual way to provide a magnificent organic design. Furthermore, color and texture box accessories allow you to add even more variety to the project while also giving it your own distinct taste. Perfect for indoor and outdoor applications, our Orange County green walls are perfect for adding privacy and noise absorption to any restaurant, hotel, office, commercial exterior, or residential landscape.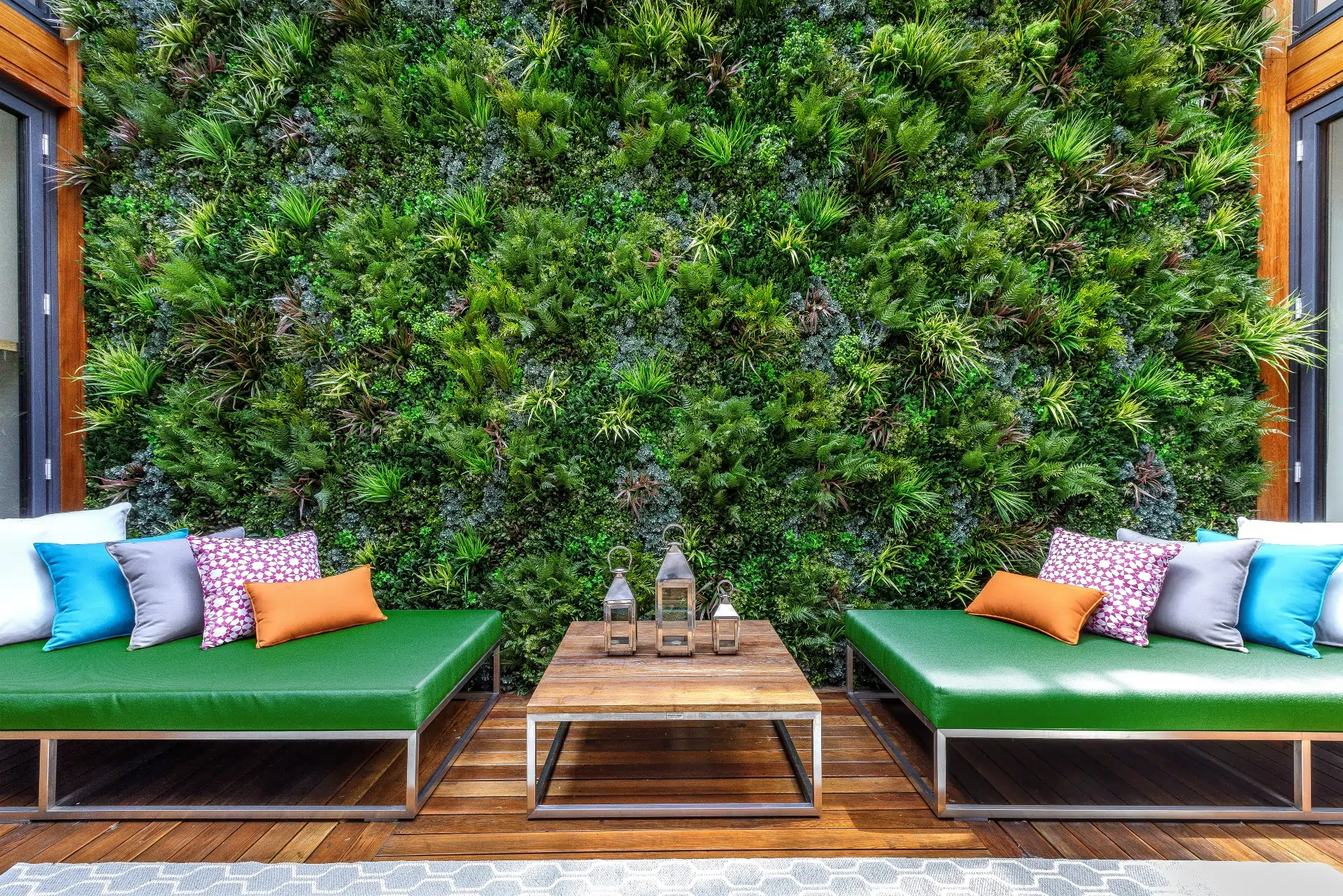 Latest News
If you are a home or business owner in Orange County, CA, then chances are, at some point, you have been curious about artificial grass from SYNLawn Orange County. For many of us, artificial grass may seem like a no-brainer solution to landscape design. However, there are just as many that have wondered whether traditional …
Read more
Locations We Serve
Proudly serving the greater Orange County area including:
Santa Ana
Orange
Dana Point
Silverado Canyon
Seal Beach
Yorba Linda & Surrounding Areas
Our artificial grass products are available for purchase and installation. These spectacular turf products can help make grass surfaces in any location more attractive and more durable without requiring costly, time-consuming maintenance. For more information or to receive a residential artificial turf quote, SYNLawn® has long been an industry leader in the sale and installation of commercial and residential artificial grass in Orange County. For decades, our clients have savored the economic and social benefits of artificial turf installation. For more information on SYNLawn® products and Orange County synthetic grass installation services, please contact us today to book a free consultation.