If you are a home or business owner in Orange County, CA, then chances are, at some point, you have been curious about artificial grass from SYNLawn Orange County. For many of us, artificial grass may seem like a no-brainer solution to landscape design. However, there are just as many that have wondered whether traditional grass or synthetic turf is better. Fortunately, artificial grass from SYNLawn Orange County continues to prove to our customers the full potential of grass alternatives and how they can be beneficial long term rather than their natural counterparts.
Artificial Grass is Eco-Friendly
Today, the market for artificial grass in Southern California is extremely saturated, making it difficult to make a decision. However, if our attention to detail and realism is not enough, SYNLawn is the only manufacturer in the U.S. to manufacture plant-based synthetic grass. One of our main goals as a company is to provide customers with eco-friendly turf products that further our commitment to environmental sustainability.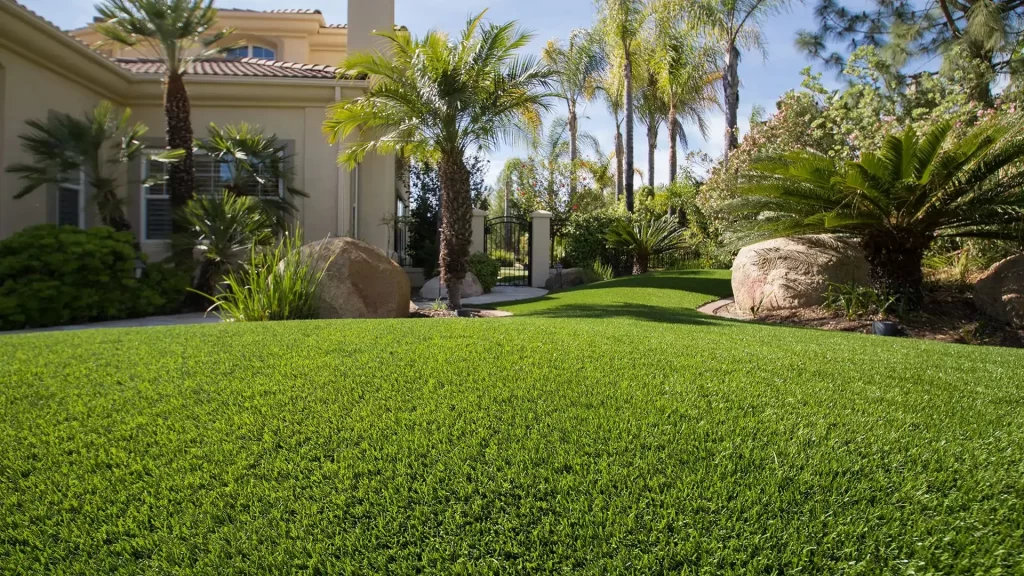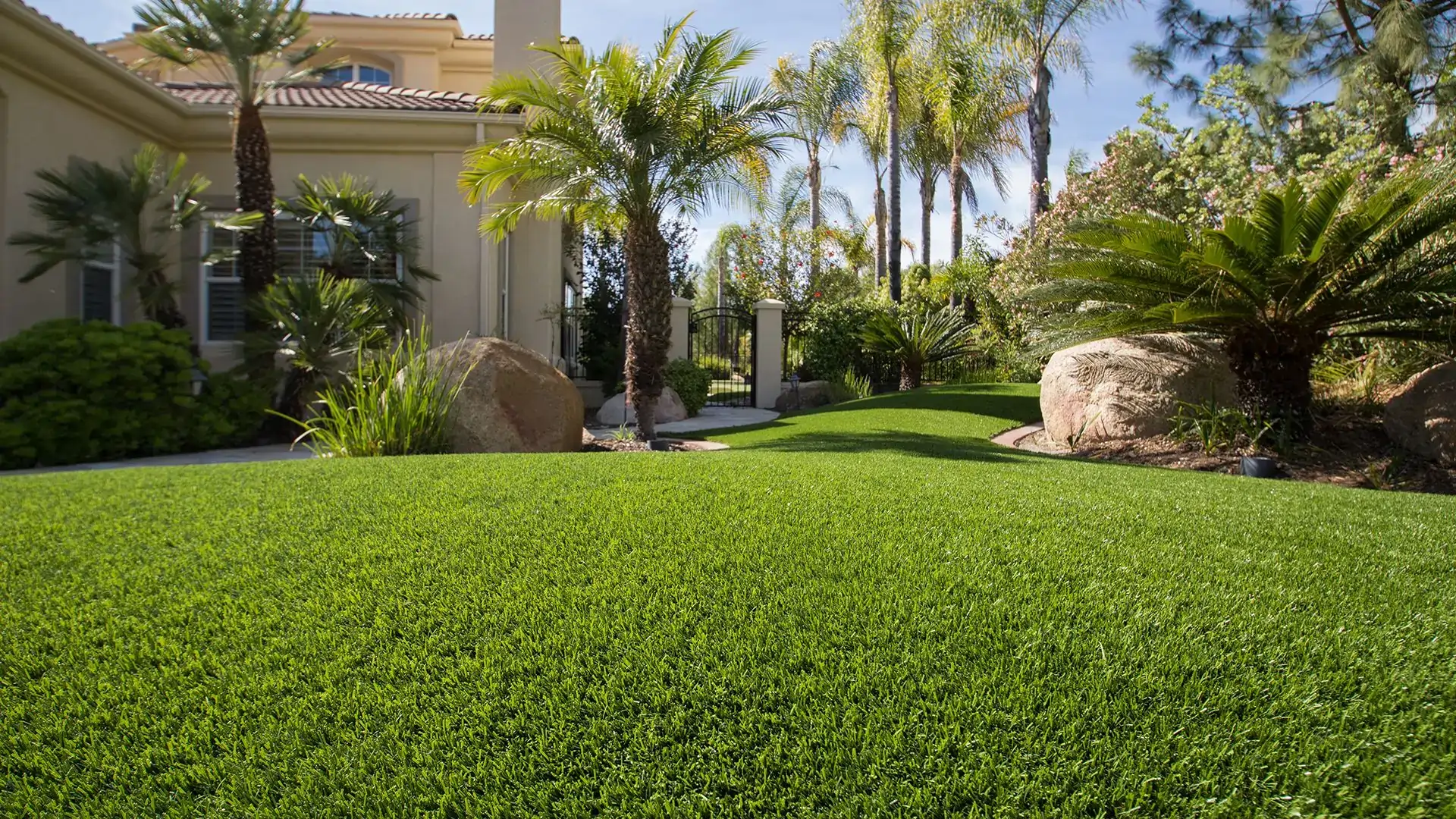 To do this, we work closely with U.S. soy farmers. It is with their collaboration that we can replace harmful components, such as petroleum, with sugar cane and soybean oil. Through decades of partnership and hard work, SYNLawn has become the first company to offer USDA-certified turf. As such, our grass solutions help conserve thousands of gallons of water and significantly reduce carbon emissions year-round while completely eliminating the need for any traditional maintenance.
Unmatched Realism
SYNLawn manufactures highly realistic artificial grass for Orange County homes, businesses, and more. We have worked tirelessly for years to accurately replicate the appearance and behavior of conventional grass as closely as possible to provide beautiful lawns, landscaping, putting greens, and other installations.
Our fantastic artificial turf is manufactured at our facility in Dalton, GA. It is in this 400,000-square foot ISO 9001-certified facility that we can control our quality every step of the way and ensure that we meet environmental standards every time. From yarn design to the final product, we have done the necessary research and development to create synthetic turf that is unmatched in quality anywhere else in our industry, including in Southern California.
The Most Durable Orange County Synthetic Turf
At SYNLawn Orange County, our synthetic grass is equipped with technological advancements that combine several unique elements to increase durability. Super Yarn, our first-of-its-kind yarn formula, and EnviroLoc+, our plant-based backing system, combine to provide you with highly durable artificial grass. As a result, your lawn or landscape will be able to resist changes in weather, heavy foot traffic, and high activity, as well as pets that love to try and dig holes.
Low-Maintenance
One of the largest reasons that customers will choose to look into artificial grass is that it simply does not require the same level of maintenance as traditional grass. At SYNLawn Orange County, our artificial grass makes it possible to leave mowing, watering, and fertilizing in the past. You will never have to do more than sweep or leaf blow your lawn at your convenience for the many years that your lawn will be installed.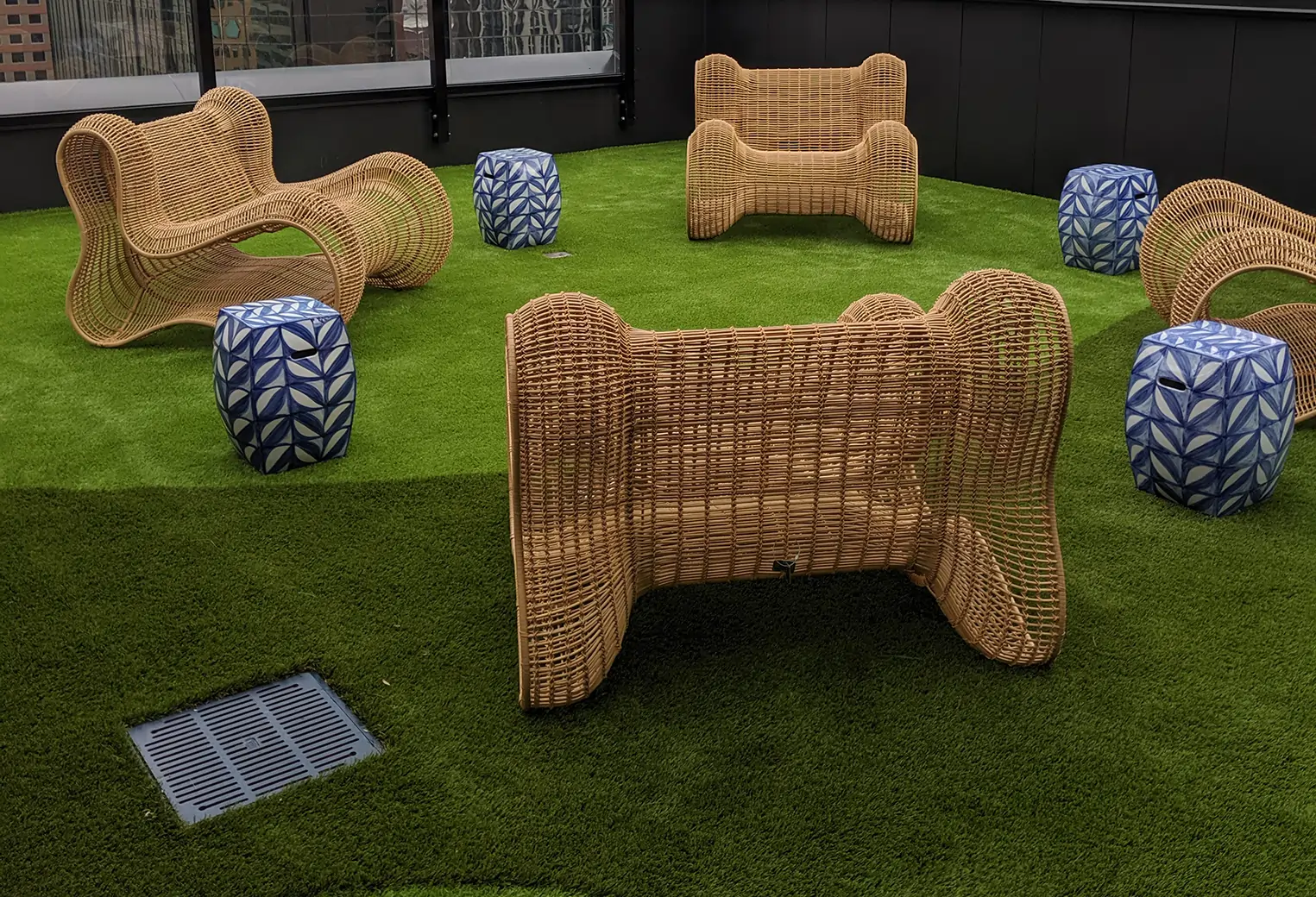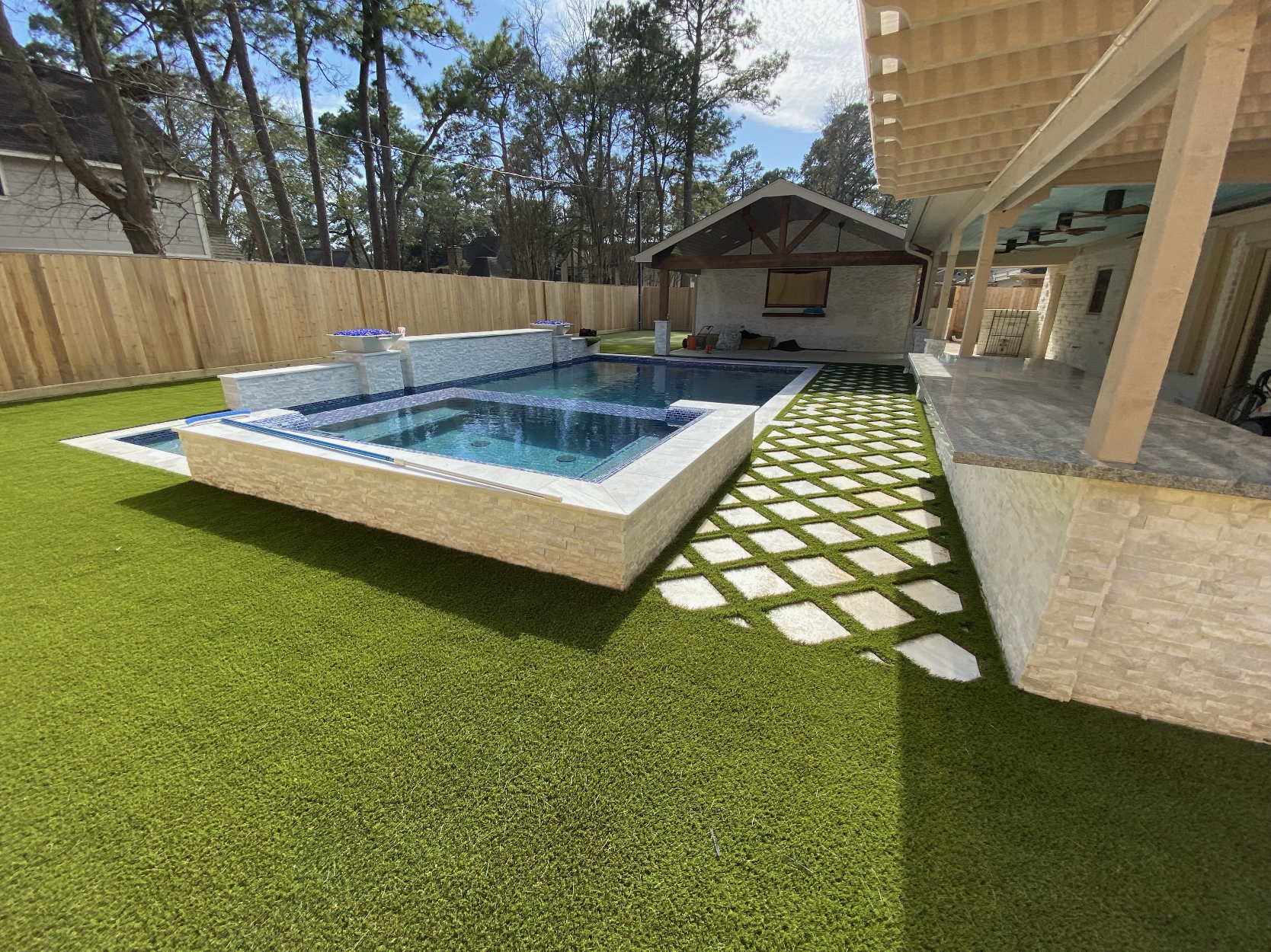 Antimicrobial Properties
As mentioned, the turf from SYNLawn Orange County utilizes an exclusive yarn formula called Super Yarn. Included in the formula is the highly effective antimicrobial Sanitized®. Sanitized® eliminates up to 99% of bacteria from turf surfaces and actively controls odors that are caused by the ammonia that is in pet waste. In addition, Sanitized® fights the buildup of fungi and algae that are known to aggravate respiratory allergies, making our turf cleaner and healthier.
Superior Safety Standards
Regardless of how old you are or how much experience you have in life, accidents happen. At SYNLawn Orange County, we take safety very seriously. We were the first company to recognize the need for IPEMA-certified artificial grass and the first to provide Class A fire-rated grass solutions. This means that you will be better protected from common injuries and falls up to 10 feet, and your lawn will help to slow and prevent the spread of fires that can lead to serious injuries.
Our Unmatched Warranty
Although we are confident in our Orange County artificial grass, we believe that offering a lifetime warranty is something that every confident manufacturer should provide. Many companies may offer you a 15-20 year warranty on their products, but we choose to go beyond this. SYNLawn Orange County offers an unmatched lifetime warranty that not only covers your purchase but also covers your installation and everything else involved in completing your landscape. It is our pleasure to provide you with the highest level of customer service and the most meticulous installations. In the event that something goes wrong, we will be there to make it right for you in Orange County, CA.
Contact Us to Learn More About Artificial Grass Installation!
At SYNLawn Orange County, we believe our exceptional artificial grass is superior to conventional grass in Orange County and other Southern California communities. We believe in our synthetic grass and are happy to continue innovating in the market as well as learning from our customers. In doing so, we can continue to be the number one choice for Orange County artificial grass. For more information about our team and everything we have to offer, contact us today and take advantage of your free consultation!